Quotify for Shopify
Sell your products with a powerful, easy-to-use quoting tool.
Quotify is installed in a matter of minutes and ships with a beautiful quote widget where your clients can add one or multiple products (including quantity) to their quote request. The widget is responsive and works across all devices ranging from desktop to mobile.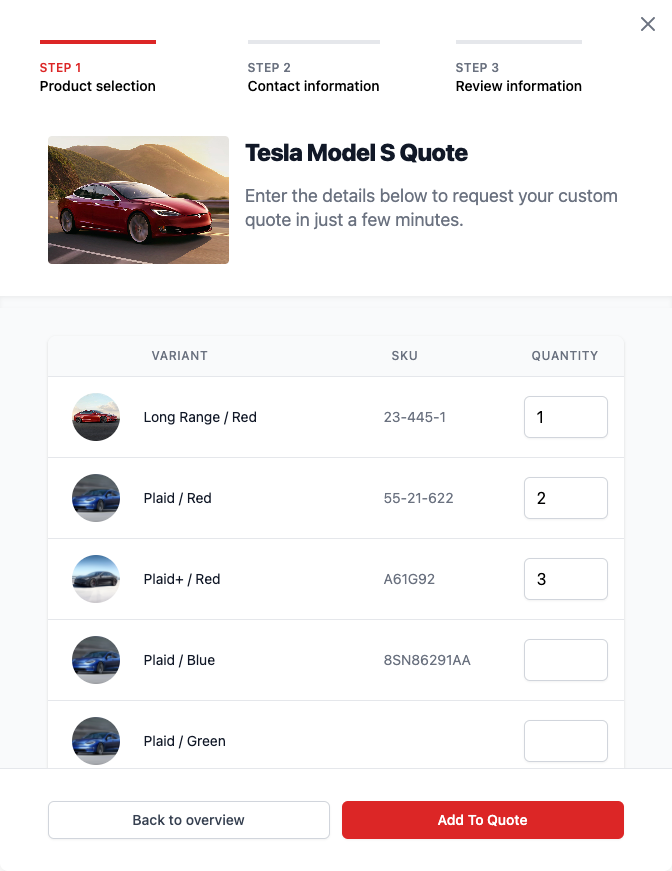 Getting quotes for anything online, easy and fun.
The challenge of keeping up with every customer is real. You're spending hours a day on email, juggling social media, and chasing after customers. Quotify makes it easy to manage quote requests so you can do more with less work!
Quotify is an online tool that allows your customers to submit quotes for any product and bargain for the best price. Your customers can click on the "request for quote" button and fill in the request for quote form. From the Quotify dashboard, you can see all the products and quantities for which a customer has requested a quote. You can leave notes for other staff and of course archive quotes when you are done.
Form Builder You are in control. You can define which information you want to get from your clients by using the form builder. You can create multiple sets of fields to structure the information.
Translations Quotify supports all languages. Simply choose one or more languages, provide the translations, and Quotify will automatically adjust to the language of your customer/shop.
Notifications You can enable email notifications to notify any recipients when a new quote is requested. But that's not all, Quotify also supports Slack notifications.
Hide Price or Add To Cart With a single click, you can hide the price and/or add to cart button for all or specific products.
Peace of mind Did you delete a quote or field by accident? No worries! You can restore any fieldset, field, or quote (up to 30 days) that you have deleted.
Premium Support Do you need help? Just shoot us an email and we will get back to you as soon as possible to assist you. If you are looking for a certain feature that we don't support, let us know and we will see if we can help